Sequel Pro
Sequel Pro is a fast, easy-to-use database Client for working with MySQL databases. It has a lot of other features you can explore more on the Website.
Keyboard Shortcut
Sequel Pro by default doesn't provide a feature to change a KeyMapping. However, changing keyboard shortcuts in Sequel Pro is very much possible in Mac. My major use case is to "Save Query" & I use it a lot. I generally create separate files for different Databases. I am used to Command+S(⌘+S) to save the ongoing work but that doesn't work for Sequel Pro by default.
But it's not supported by Sequel Pro directly, but we have a workaround for the same. Here we go:
In Mac, we can add shortcuts via System Preferences for an Application.
Go to Keyboard > Shortcuts > Application Shortcuts.
Now click the "+" button and a window will open with options to select/add Application, Menu Title & Keyboard Shortcut.
Select "Sequel Pro" in Application and enter "Save Query" as the Menu Title and assign "cmd+S".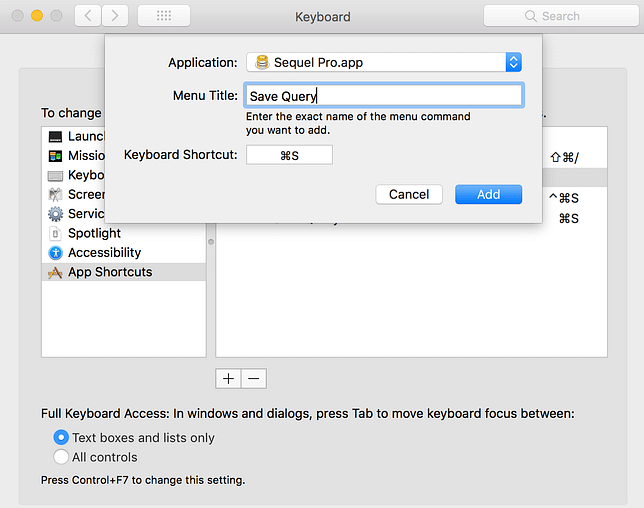 Similarly, then add "Save Connection" and assign "ctrl+cmd+S" – both shortcuts will get swapped.
Once you are done it will look like the below screenshot.
Similarly, you can add more shortcuts for Sequel Pro and for other Applications as well.
By single command on Terminal
You can also use the below command in Terminal to create both of the shortcuts. We can check the settings by executing $ defaults read com.sequelpro.SequelPro
defaults write com.sequelpro.SequelPro NSUserKeyEquivalents '{
    "Save Connection" = "@^s";
    "Save Query" = "@s";
}'
Reference: https://github.com/sequelpro/sequelpro/issues/1310