iPhone X went on sale in India at 6pm IST on Friday(3rd Nov, 2017). It is already delivered to few people who pre-booked it. If you are also looking to buy an iPhone X wait, we will show you the best deal. We will explain, why it is the cheapest option. In addition we will also show an example to yearly upgrade iPhone by paying less.
People are waiting for an Apple exchange program for long, in India. Which means, we can get a new iPhone on discounted price by exchanging the old one. Now we don't need it any more. Thanks to Flipkart Buyback Guarantee, this is the best offering in market, which works similar to that.
As per Flipkart, you can own an iPhone X at just 13,500 if you already own an iPhone 7 plus. Flipkart is offering cashback on Citibank cards, buyback guarantee and exchange as well. Here are the details of offer.
Cashback for Citi Credit and Citi World Debit card users:

₹10,000 cashback when you buy iPhone X
₹15,000 cashback when you buy iPhone X and AirPods
₹22,000 cashback when you buy iPhone X and Apple Watch

Up to ₹45,500 guaranteed buyback value if exchanged b/w 6-8 months, & 36,600 if exchanged b/w 9-12 months.
You can also get up to ₹20,000 off on exchange of iPhone 7 Plus.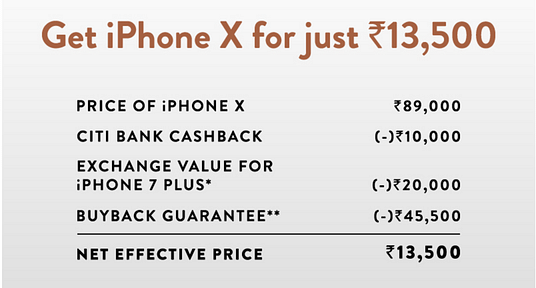 This is a best offer available in market. Where you need to pay 45,500+13500=59000 & will get an iPhone X. You can again exchange iPhone X after 11 months and get a new phone around 36,600 free or discount of same amount on higher end phone.
This is not the final exchange price of iPhone X as you need to exchange the iPhone 7 and then need to buy a new phone to redeem 45,500. Lets convert this calculations to exchange model. Where we will calculate the price of new phone after 11 months. Generally Flipkart offers 50% buyback guarantee, if you exchange b/w 6-8 months and 40% if you exchange b/w 9-12 months. That is calculated on MRP instead of discounted price, as of today.
You will say the exchange price is simply 59k. No, because the iPhone 7 plus that we are giving in exchange didn't had buyback guarantee. I guess it was launched at 72k and the exchange would be around 29k instead of 20k. The exchange price of iPhone X will be 50k. Apple fans will love that deal.
Lets assume, iPhone 11 will launch next year at price range of 80k and we will get 40% buyback. Lets calculate the future exchange the price at Flipkart. This is an assumption, please cross validate the numbers.
| | |
| --- | --- |
| Assume price of iPhone 11 in future | ₹80,000 |
| General Cashback from bank offers | ₹10,000 |
| Guaranteed exchange value of iPhone X | ₹36,600 |
| Final price of iPhone 11 | ₹34,000 |
As per our assumptions Apple fans can use iPhone X and iPhone 11 each for an year each (total 2 years), by paying 50k and 34k respectively. This is a great offer for Apple fans who want upgraded phone each and every time.