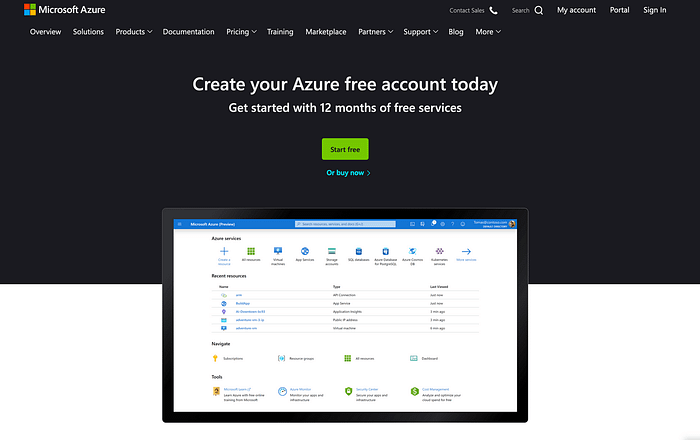 Microsoft Azure is providing 12 months free trial to test their product offering. We will explain, how we can get the 12 months of free hosting or free virtual machine. That can be used to host low traffic web servers, small databases, micro services, servers for proof-of-concepts, build servers, and code repositories. Even I feel their prices are very reasonable as compared to other cloud providers.
Step 1:
Go to the Azure website https://azure.microsoft.com/en-in/free/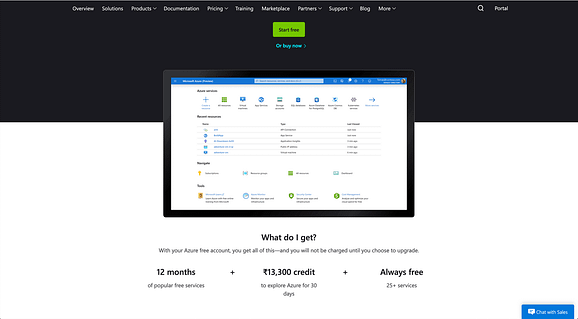 Click on the Start free button, it will take you to sign in page of microsoft.
Step 2: Create MS account or use existing account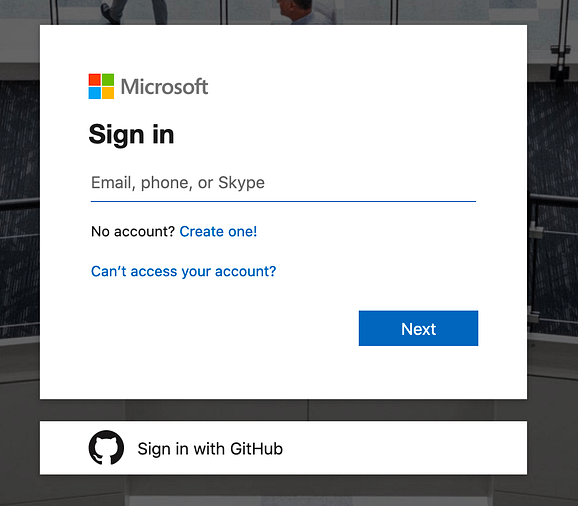 We need to either use the existing Microsoft/outlook/Skype/GitHub account or we can create a new account. This is flow is very easy. Once you will be done with the account sign in. You will land on the Card verification page.
They will ask for a credit card however it is just for verification purpose and will only deduct 2 INR. After this step is done you will be redirected to Azure Portal.
Step 3: Azure portal
On Azure portal will look like the below screenshot. When you land here you can take the tour as well.
Microsoft is also giving 13,300 Rs credit for one month to explore/use other Azure services.
Step 4: Create Resource
Click on first option "create a resource" where you see a "+" (plus) sign.
Now we will reach on below page. Where you will get multiple options to create a machine.
Subscription should be mentioned as a free trial.
Resource group, you can create one and give it a name. Click on the "create new" link and enter the name. I have named it "azure_free_trial" as shown in the screenshot.
Virtual machine name, This will be used as a hostname of your machine. I have named it "azure".
I haven't changed Region &

Availability

options.
Image: I have chosen "Ubuntu", as I usually work on Unix based environments. However, there are multiple Operating system options are available. You can choose as per your requirement.
Size: This is an important step, Here I have changed it to "B1s" as this instance suits my requirement and will cost 501 Rs per month(after 1 year), Only if I will upgrade my account after the free trial will end.
Authentication type: This is how you want to access your machine? By a username/password or by the public key. People who knows how to use the public key method, better use the public key, as it is more secure. For simplicity of this, we can go with username and password. This machine will be accessible all over the world, please make sure you don't share the password with anyone.
Inbound Ports: For now we have selected all 3 ports, so we don't face issues, incase we set up a server on the server.
Now we need to click on the Review + create button, Advance users can check other configurations.
On Review + create tab Click on the create button.
Deployment in progress: The machine is getting assigned and created with selected OS.
Step 4: Login to machine
Click on Go to resource button, you will land on overview page.
Now go to the terminal/bash and ssh into the machine:
~$ ssh username@publicIP 
enter the password you have given earlier. Below is the screenshot of the same. Now you can use this machine for free for 12 months Enjoy 🙂
This machine is free for 12 months and if you like the services of Azure you can carry on with their paid subscription. Which is cheaper as compared to other competitors, that's what I feel.
Please free to comment & feedback are welcome